Path Travesed
Sardar Patel's dream of a modern and prosperous Independent India was marked by regeneration of villages through the establishment of institutions of modern education, advanced agriculture and cooperative ventures. Vallabh Vidyanagar is the realization of one of his dreams; others being the establishment of the Institute of Agriculture at Anand, now one of the four campuses of the Gujarat Agriculture University, and Amul Dairy, the cradle of cooperative dairying.
The genesis and phenomenal growth and development of Vallabh Vidyanagar, the well-planned and unique educational township situated in the heart of the Gujarat State, is stranger than fiction. Based on local talent and local resources it is a peerless example of self-reliance and dedication. While working in Sindh (now in Pakistan) as Superintending Engineer in Sukkur Barrage, Yevala in Maharashtra and Ahmedabad Municipality, as a distinguished Chief Engineer, Shri Bhailalbhai Dyabhai Patel, later warmly attached in the hearts of the people of Gujarat as 'Bhaikaka', had earned reputation for his sense of values, discipline, dedication to duty and absolute integrity.
Having been born and brought up in a family of strained financial resources in Sojitra village in Kheda district, he knew what it meant to be poor. So, while in the government service he strove to dedicate himself to the cause of rural India which was sunk in inertia, squalor and abject poverty. Once during a meeting between him and Sardar Vallabhbhai Patel, who knew Bhaikaka as a man with a practical bent of mind, unusual ability and character, Sardar advised him to go to the villages and work for their regeneration. Sardar's wish was tantamount to a command to him. Bhaikaka's irresistible desire to improve the lot of the poor villagers coupled with Sardar's advice or command impelled him to retire from service. He saw that the most potent instrument to improve the subhuman life of villagers was to bring higher learning to their very doorstep and thus the concept of establishing institutions of higher education started taking shape.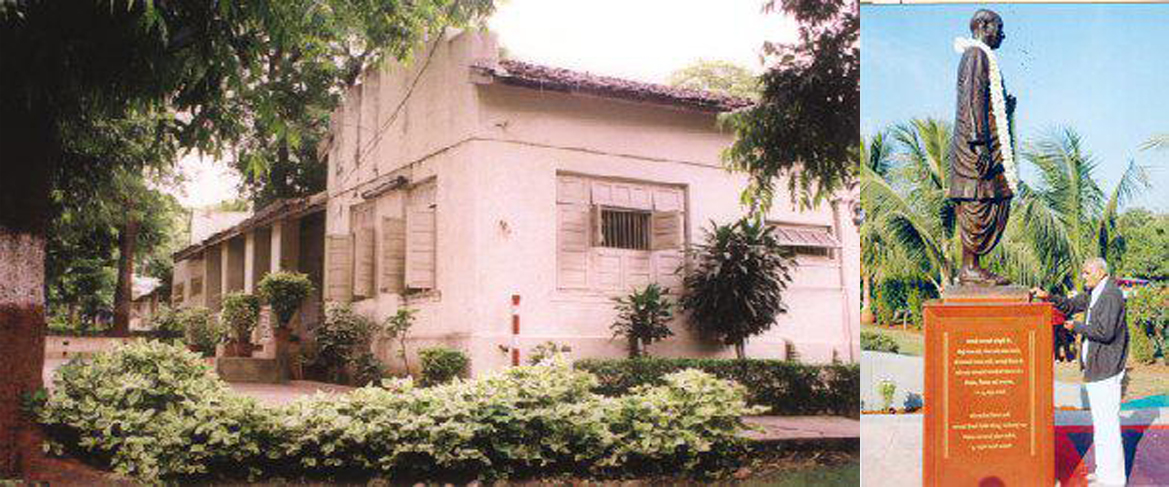 He got in touch with Shri Bhikhabhai Kuberbhai Patel, a dedicated and farsighted educationist, fired by the same ideal. They held several meetings in different parts of Kheda (then Kaira) district. On March 28, 1945 it was decided to draw and implement the plan of planting an educational township in a wilderness infested with dacoits which later came to be known as Vallabh Vidyanagar. Bhaikaka worked out an ingenious s cheme based on enlightened self-interest. He persuaded the farmers to donate their land free of cost, saying, "Donate your land to us now; we'll develop and use two-thirds and return you the remaining one-third in course of time".
It was explained to them that while having the pleasure of assisting in the establishment of an educational township at no cost to themselves the building plots they would each obtain would be sufficiently enough not only to cover the value of the land donated, but also leave a handsome margin of profit. It was a win-win as the founders decided to establish two institutions - Charutar Vidya Mandal and Charotar Gramoddhar Sahakari Mandal.
The former was to be devoted to the cause of education, that is, establishing colleges and schools and the latter meant to produce the building materials for educational institutions and residential quarters. They were registered on August 10, 1945 and September 7, 1945 respectively. Bhaikaka and Bhikhabhai came to reside in the wilderness in an improvised residence - a hut measuring 8 ft and 10 ft on March 3, 1946. They chose a mango tree and installed themselves under it, dreaming, planning, breaking new grounds, organizing, getting things done and resolving snarls to plant a city of education far from the maddening hustle and bustle of cities. It merits a special mention here that Bhaikaka, the Patriarch of Mango Tree, as he was then called, despised the idea of borrowing know-how and do- how from anywhere.
Shri H.M. Patel worked relentlessly for providing the latest healthcare facilities to the rural masses and took up, when he was close to seventy-five years of age, the ambitious project of establishing a well-equipped Hospital and Medical College in the rural surroundings near Karamsad (Sardar Patel's village).
The unique Hospital and Medical College Complex, managed by the Charutar Arogya Mandal, of which too he was the Chairman, consists of Shree Krishna Hospital and Medical Research Centre, Pramukh Swami Medical College, H.M Patel Institute of Medical Laboratory Technology, Khushalbhai M. Patel Institute of Physiotherapy, Shri A. D. Gorwala Blood Bank and Manibhai Shivabhai Cancer Centre. In recognition of his great service to Charutar Vidya Mandal and through it the Sardar Patel University, in the development of which he had played a prominent role, the university conferred upon him an honorary degree of Doctor of Letters.
He also received Albert Schweitzer Award of Animal Welfare Institute of USA for championing the cause of afforestation and conservation of wild life and Nargis Dutt Award (posthumously), for his production of the feature film 'Sardar'. The film has been hailed as a lively depiction of some aspects of Sardar's stellar contribution to India after Independence. Like Bhaikaka, he too entered politics with a view to root out corruption and lawlessness and strengthening democracy. Even as Cabinet Minister in the Central Government he kept constant touch with his institutions in Vallabh Vidyanagar. Despite the heavy responsibilities with which he was saddled he would come down here at least once a month and arrange meetings with the principals of colleges and schools and preside over functions.
Shri H.M. Patel passed away on November 30, 1993, creating a deep void in the academic life of Vallabh Vidyanagar. A pall of gloom descended on Vallabh Vidyanagar where he had devoted himself to the building and nurturing of institutions to serve the common man Dr. Chhotubhai L. Patel former Executive Engineer in Gujarat Electricity Board, succeeded Shri H. M. Patel as the Chairman of the Charutar Vidya Mandal in 1994. Endowed with rich practical sense, sound realism and solid and unshakable endurance he is the true and worthy successor of Shri Bhaikaka, Shri Bhikhabhal Patel and Shri H. M. Patel, Shri Bhaikaka and Shri Bhikhabhai created Vallabh Vidyanagar.
Shri H. M. Patel created Vitthal Udyognagar and Arogyanagar near Karamsad and Dr. C. L. Patel is the creator of New Vallabh Vidyanagar, a mushrooming satellite township, now spreading over one hundred acre of land near Karamsad, Mogri and Gana. It is going to have Industrial Training Centre, staff quarters, shopping centre, playgrounds and auditorium besides educational institutions in near future. Steps are afoot to extend the area to four hundred acres.
Dr. C. L. Patel, the man with Midas touch, has set up several self - finance colleges: Natubhai V. Patel College of Pure and Applied Sciences (1996), G. H. Patel College of Engineering and Technology (GCET) 1996, Sardar Gunj Mercantile Cooperative Bank Ltd. - English Medium College of Commerce and Management (SEMCOM, 1997), A. D. Patel Institute of Technology (2000), S. S. Patel College of Physical Education (2002), Institute of Science & Technology for Advanced Studies & Research (ISTAR) 1999, an Industrial Training Centre named Chimanbhai M. J. Patel Industrial Training Centre. He has also established Sophisticated Instrumentation Centre for Applied Research & Testing (SICART) in 1999, a national - level centre with unique testing facility with ultra sophisticated instruments. ISTAR is a post-graduate learning centre with eight programmes in science, eight in engineering, two in pharmacy and three multidisciplinary progammes. C. Z. Patel College of Business & Management (2003), Indukaka Ipcowala College of Pharmacy (2003), Govindbhai Jorabhai Ayurved College (2005), Ashok & Rita Patel Institute of Integrated Study in Biotechnology (2005) are the latest additions at New Vallabn Vidyanagar.
In 2005 four more institutes joined the CVM family. Surajben Govendbhai Patel Ayurved Hospital. Govindbhai Jorabhai Patel Ayurved college, Waymade College of Education and Bhika Bhai Saheb PTC College. Work on setting up there, an integrated law college and a college for language studies and applied social sciences is in progress at a supersonic speed. In order to keep pace with the fiercely competitive world by revitalizing the society through quality education the institutions established by Dr. C. L. Patel impart education in Valuation (Plant & Machinery), first of its kind in the world, Industrial Polymers, Applied Chemistry, Computer Science, Information Science, Biotechnology, Food Processing, Environmental Science, Instrumentation, Information Technology, Electronics and Communication and Mechatronics etc.
Postgraduate programme in e-commerce is one of the latest introduced under his dynamic stewardship. With a view to create learning opportunities for the students of SEMCOM at the global level he has signed Memorandum of Understanding for academic collaboration between SEMCOM and USA's Georgia South Western State University, Myers University and one Canadian University-Malaspina University, Vancouver. Dr. C. L. Patel has extensively renovated and refurbished the Ipcowala Santram College of Fine Arts and Rama Manubhai Desai College of Music & Dance to accommodate the existing colleges of Fine Arts (Drawing, Painting, Sculpture and Commercial Art etc.) and Music & Dance.
He has extended the buildings of H. M. Patel Institute of English Training and Research and constructed separate library buildings for Viththalbhai Patel Mahavidyalaya and Rajratna P. T. Patel Science College, Nalini - Arvind & T. V. Patel Arts College, S. M. Patel College of Home Science, Birla Vishwakarma Mahavidyalaya (Engineering College) and Natubhai V. Patel College of Pure Applied Sciences. Shapurbhai I. Patel Learning Centre, also his creation, aims at serving the various schools run by Charutar Vidya Mandal. He has made a handsome donation to the Dr. C. L. Patel Centre for Production & Civil Engineering. In addition, separate hostels for boys and girls belonging to G. H. Patel College of Engineering & Technology (GCET) and A. D. Patel Institute of Technology (ADIT) have been built under his dynamic leadership.